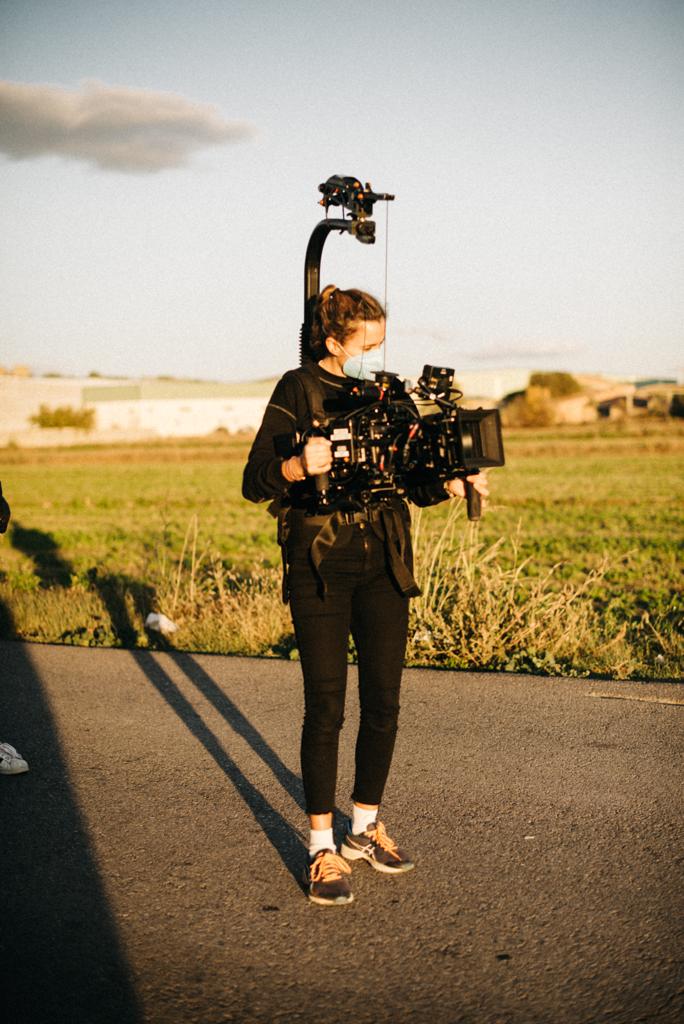 Andrea has always been in shootings, learning how films are done since she was 6 years old, doing her school homework on set.

At age 15 she lived in Wichita, Kansas, for 10 months, and made 3 short documentaries that don't figure in this website. She had 5 different cameras with herself during that year.
In 2017, at age 21, she finished her studies in ESCAC (Superior Film School of Catalonia), having learnt and shot projects of all kinds, some figure on her Showreel. Along with the XXth ESCAC Generation, they made the film 'La Filla d'Algú', which earned the Best Picture Movistar Plus Award in the Festival de Málaga de Cine en Español, and was very well received around the country.
She is now a young, yet experienced, Director of Photography working on two upcoming shortfilms, and one TV Show, where she challenges herself with narrative shots and lighting. Also, she always finds balance working on creative music videos and commercials.
She recently worked as an assistant/mentee for Elias M. Félix (AEC) on the prep of 'Paraíso', Season 2 (Movistar Plus, Mediapro), and it was one of the most rewarding and inspiring work positions; to learn from such an experienced Director of Photography in the most overriding and decisive time that was the pre-production.
As DP, Andrea has been shooting commercials, music videos and other creative pieces for TV as Le Nais music piece 'Revolution' and the double single 'Unshape Love' (Produced by Possible Films), also the commercial for 'Picasso's Museum' with the world's top chef Ferran Adrià (produced by Benecé Produccions).
Between 2018 and 2019 she shot two seasons, which means 23 hours, of documentary series for 'La Ciencia de la Salud' for TVE (Spanish National TV Channel). This experience gave her confidence and speed: fast-solving and getting the best out of every location, being effective with natural lighting, and also with 3 cameras at once and operating Ronin M.
On the other hand, she has worked as Camera Department in features and Series, bigger budget projects. Being 2nd AC in Maricón Perdido (Movistar Plus, HBO), and Merlí SA (Netflix, Movistar Plus). Video Assistant in Gente Que Viene Y Bah, El Vecino (Netflix), and Berenaveu a les Fosques (TV3) with DP David Valldeperez (AEC). Also, in many commercials and corporative videos.
Andrea believes that the best work is always the one that suits the story and doesn't stand out more than required, that's what makes a piece unique, not a pretty shot, but a global look that involves the spectator with feelings and emotions. Also teamwork is key for her, surrounding herself with good people that are also great professionals, and creating an special bond with the Director.